You were feeling tension and tightness in the lower back and began performing exercises such as child pose, windshield vipers, cat-cow, and other back stretches. Yet, you still had not felt the relief from your lower back pain symptoms.
A lower backache could be a pain in the butt (pun intended) if left unattended for an extended period of time, as it could potentially lead to deeper issues involving the Sacroiliac Joint (the area in the buttocks, around the tailbone), hips, legs or even the upper back and neck. Corrective stretching techniques are shown to help reduce pain symptoms of the lower back but, are you covering a very important muscle group?
THE OFTEN-OVERLOOKED MUSCLES
The hip flexors that are located on the anterior (front side) of the body is neglected because the go-to exercises often involve only the lumbar extensors (the muscles that bend your trunk backwards) and the posterior muscles like the hamstrings. In fact, a tight and 'over-worked' hip flexor group may contribute to (or a result of) an anterior pelvic tilt, due to their muscle attachments to the pelvis and lumbar spine, compressing the segments of the lower lumbar and increasing disk pressure.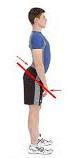 WHY MUST YOU STRETCH THIS MUSCLE?
The anterior pelvic tilt not only represents overactive and tight hip flexors, it could also weaken your glutes! How? By a process called altered reciprocal inhibition. Simply put, an overactive hip flexor group causes your glutes (buttocks) to shut down and not function properly for day to day movements, including walking, climbing stairs, coming up from a car seat, and so on. For athletes, we know that the glutes (gluteus maximus), the most powerful hip extensor in the body, must function optimally. A weakened glutes musculature will affect the athletes speed, strength and performance.
It is beneficial to stretch these hip flexor muscles to address the muscle imbalances that increase the risks of low back pain.
WHAT CAUSES THE HIP FLEXORS TO BE TIGHT?
The reasons range from having a sedentary lifestyle, an extended period of sitting (putting the muscles in a prolonged flexed, shortened position), to feet over-pronation that causes malalignment hence muscle imbalances up the knee, hips, and hips. Read the causes of low back pain here.
HOW TO STRETCH THE HIP FLEXORS?
Here you go. Follow along!
A. KNEELING HIP FLEXOR STRETCH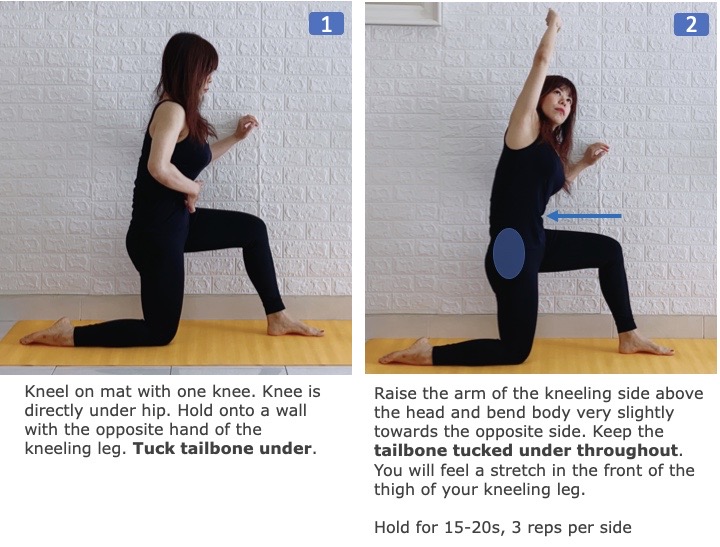 B. STANDING HIP FLEXOR STRETCH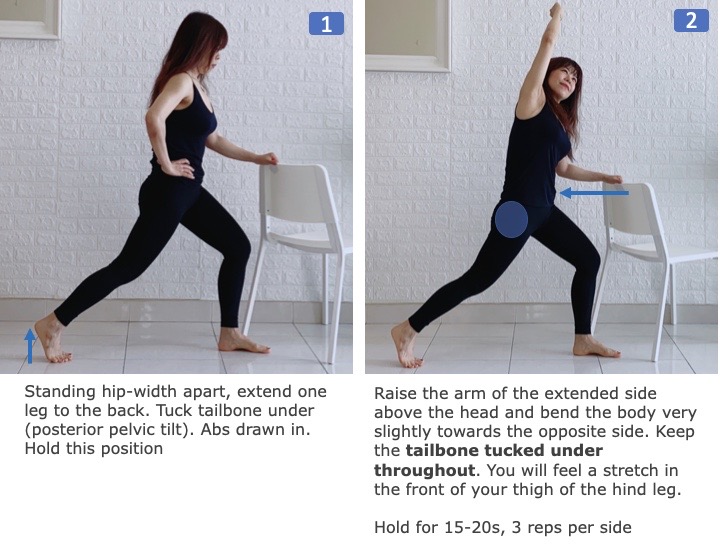 C. SIDE LYING HIP FLEXOR STRETCH